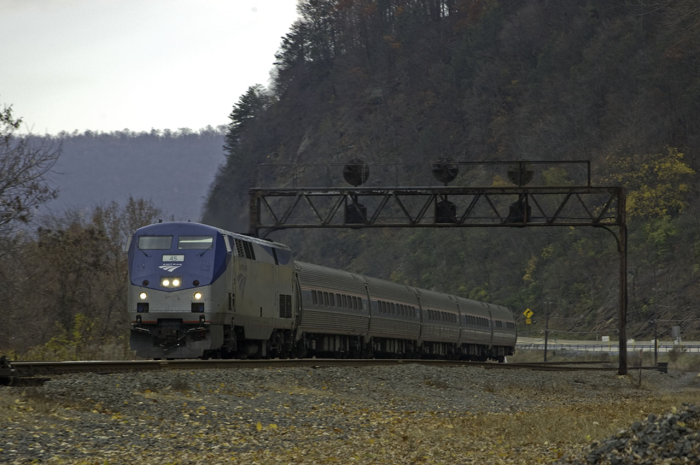 AMTRAK RIDERSHIP ON RECORD-BREAKING PACE
WASHINGTON – Amtrak is on pace to break its annual ridership record carrying a best ever 13,619,770 passengers during the first six months of fiscal year 2010 with the historically busier summer travel season still ahead.
The 13.6 million passengers who rode on Amtrak trains during the first two quarters of FY 2010 (October 2009 – March 2010) contributed to a 4.3 percent increase over the same period the prior year. It also is about 100,000 more riders than the 13.5 million posted in FY 2008, which turned out to be Amtrak's best ridership year in company history when America's passenger railroad carried 28.7 million passengers.
"Americans are beginning to travel again and are choosing Amtrak as an affordable and efficient way to move around the country," said President and CEO Joseph Boardman, noting a slowly improving economy and continued high fuel prices as factors in Amtrak ridership growth.
Comparing March 2010 to March 2009, ridership increased by 13.5 percent to a record 2.47 million passengers for the month. In addition, every single Amtrak route carried more passengers with several experiencing double-digit growth.
The Northeast Corridor experienced strong ridership growth in March with Amtrak's high-speed train,
Acela Express
, seeing a 14.3 percent increase and
Northeast Regional
trains up 12.9 percent. For the first six months of FY 2010,
Acela
service increased 2.9 percent and
Northeast Regional
service grew by 4.7 percent.

Ridership on long-distance trains increased by 16 percent in March and is up 5.2 percent for the first two quarters of FY 2010. Long-distance trains posting strong six-month numbers include
City of New Orleans
(Chicago – New Orleans ) up 16.4 percent,
Sunset Limited
(New Orleans – Los Angeles) up 15.1 percent
, Silver Star
(New York – Raleigh – Tampa – Miami) up 8.3 percent and
Coast Starlight
(Los Angeles – Seattle) up 7 percent.
In the Chicago hub, ridership on
Lincoln Service
(Chicago – St. Louis) showed significant growth with an 18 percent jump in March and 11.6 percent for the six month period.
Hiawatha Service
(Chicago – Milwaukee) continues to grow with a 14.3 percent increase in March and up 4.8 percent fiscal year to date. Elsewhere in the Midwest, the
Missouri River Runner
(Kansas City – St. Louis) is up 24.2 percent for March and 15.8 percent for the first half of the Amtrak fiscal year, while the
Blue Water
(Chicago – Port Huron) increased by 21.7 percent in March and 5.2 percent for fiscal year to date.

In the West, ridership on
San Joaquin
(Bakersfield – Oakland) is up 13.2 percent for March and 5.4 percent for the year.
Pacific Surfliner
(Los Angeles – San Diego) increased 7.5 percent in March and its six-month figures are about even with the same period a year ago. Amtrak
Cascades
(Eugene, Oregon – Vancouver, B.C.) increased by 11.4 percent in March and saw a 16.7 percent increase for the first six months of the fiscal year.

Amtrak's popular
Auto Train
saw significant growth in the month of March, increasing 25.1 percent over March 2009, and carrying nearly 25,000 passengers and their cars, motorcycles and other personal vehicles between Lorton, Va., and Sanford, Fla. For fiscal year to date,
Auto Train
ridership has increased by 8.6 percent.The FY 2010 Amtrak ridership figures are consistent with the annual growth seen during the last several years that saw a 32 percent increase in passengers from FY 2002 to FY 2008. In order for Amtrak to continue to accommodate increasing demand for intercity passenger rail service it must replace, expand and modernize its fleet of aging locomotives and passenger rail cars. Mr. Boardman describes this as the railroad's "most urgent unfunded need" and recently requested $446 million from Congress to fund its Fleet Acquisition Program.
As the nation's intercity passenger rail operator, Amtrak connects America in safer, greener and healthier ways. Last fiscal year (FY 2009), the railroad carried 27.2 million passengers, making it the second-best year in the company's history. With 21,000 route miles in 46 states, the District of Columbia and three Canadian provinces, Amtrak operates more than 300 trains each day—at speeds up to 150 mph (241 kph)—to more than 500 destinations. Amtrak also is the partner of choice for state-supported corridor services in 15 states and for several commuter rail agencies. Visit Amtrak.com or call 800-USA-RAIL for schedules, fares and more information.