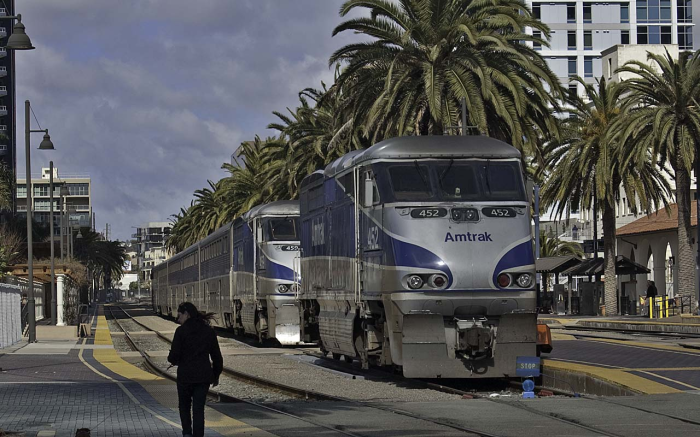 FOR IMMEDIATE RELEASE Contact: Marmie T. Edwards, OLI, 1-800-537-6224 or
Vernae Graham, Amtrak, 510-238-4360
New California Public Awareness Campaign
Aims to Reduce Train-Related Pedestrian Deaths and Injuries
OAKLAND, California, February 11, 2010 – California leads the nation in pedestrian-train fatalities and in the past 12 months, the Bay Area has experienced an upward trend in deadly train incidents. In an effort to reduce the number of pedestrians who are killed and injured when trespassing around tracks and trains, Amtrak (
Injuries and fatalities associated with trespassing on railroad property are a significant – and growing – problem. According to Federal Railroad Administration statistics, the casualty rate for all rail trespassers rose in 2008 (the latest full year for which there is statistics). More than 880 Americans died or were injured in railroad-related trespassing incidents in 2008, and the numbers have topped 9,000 in the last ten years. In 2008 California had 60 train-pedestrian fatalities and 48 injuries. Through the first 11 months of 2009, preliminary figures show, 56 California pedestrians were killed in train-related incidents, compared with 53 deaths in the same period for 2008.
The
Common Sense
campaign kicked off with a news conference at Amtrak's Oakland maintenance facility, with remarks by Pete Aadland, Operation Lifesaver state coordinator; Captain James Martino, Amtrak Police; Robin Potter, the Fresno mother of a 15-year old who died in 2008 playing on the tracks; and David White, partner, Exit 10 Advertising. The campaign is sponsored in California by Amtrak and Operation Lifesaver, Inc., and is supported by the California Department of Transportation (Caltrans), Caltrain, the Capitol Corridor Joint Powers Authority (CCJPA), Union Pacific Railroad and BNSF Railway.
"Our goal for this campaign is to save lives by letting people know that walking or playing around train tracks or using railroad tracks as a shortcut is potentially deadly and always illegal," said Helen M. Sramek, president of Operation Lifesaver, Inc.
"Pedestrian injuries and fatalities on railroad tracks are preventable," said William D. Bronte, Division Chief, Caltrans Division of Rail. "People don't often understand the impact of these incidents on train crews. We are pleased to work with Operation Lifesaver, California's rail agencies and our industry colleagues in this important effort."
Roy Deitchman, vice president, environmental health and safety for Amtrak said, "Individuals must make the right decision to stay off the tracks and the
Common Sense
message does just that. Through this public-private safety partnership, the
Common Sense
campaign will raise public awareness and understanding about the risk of trespassing."
"My son Shawn lost his life because he thought he could outrun a train. Teenagers and young adults also may be distracted by cell phones, texting, listening to iPods or other MP3 players if they're near the tracks. This new public awareness campaign has a simple message: staying away from the tracks is common sense, and it can save your life," said Potter.